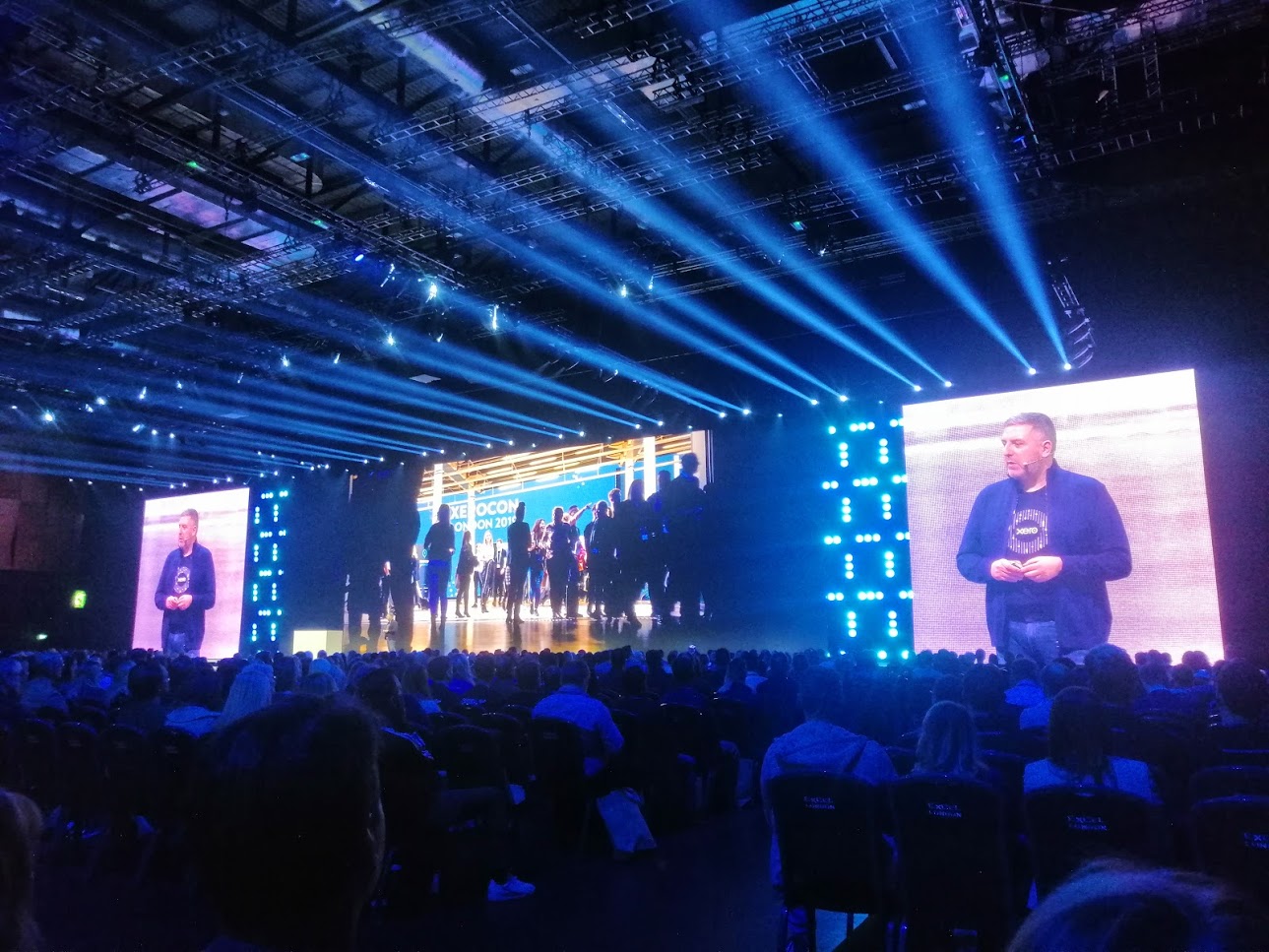 Xerocon London 2019 Day One
Xerocon London 2019 is a two-day conference devoted to accounting partners who have Xero as a focus in their practise. I do not quite fit that category as I am a computer programmer creating applications for Xero and other accounting packages but I can update you here on the announcements on the first day of the conference which took place 13 November 2019. So as a non-accountant please forgive me if I misunderstood any of the prime messages from the conference reported below.
Xero is a New Zealand company and their CEO, Steve Vamos, gave us an overview of progress this year and some of the overall trends in the industry at this time. He sees Cloud Adoption, AI and Machine Learning, Business Optimism, Compliance (MTD) and Financial Services Integration (Open Banking) as the major trends in accounting software today.
Steve flies around the world a lot and Xero have a commitment to the environment involving offsetting all their air travel over the last two years. All Xerocon delegates received reusable glass water bottles with even the toggles on the wristbands made of wood (sustainable) instead of plastic.
The theme of the conference this year was 'Purpose' and the UK Managing Director, Gary Turner, made a heartfelt plea for small businesses and their advisors to understand and control their cashflow as one of the prime causes of business failure. Gary's parents ran a family business in Glasgow in the 1970s that did well for a period and he understands that many businesses are part of the fabric of the family. Unfortunately, the family business failed and financial commitments meant that the house was lost and Gary and family spent a while living with relatives whilst the strain of the business failure resulted in his parent's divorce. Consequently, Gary's commitment to providing the best software solutions and encouraging accountants to give the best advisory service possible to businesses rings true and set a thoughtful and serious tone and "purpose" to the conference.
Xero now has 536,000 subscribers in the UK and recently opened a new office in Manchester. The emphasis on new features for Xero in the near future was on data, compliance and insights. Some of the announcements made include:
XERO VAT HQ under development to allow accountants to bulk manage their HMRC Making Tax Digital clients for VAT returns more easily.
The XERO ADVISOR CERTIFICATION is now free from various learning providers (see https://www.xero.com/uk/training/certification-equivalent-courses/).
XERO TAX is the brand representing the purchase of Instafile last year and Xero plan to implement online corporation tax filing directly from Xero in March next year with filing for Micro-Enterprises available now in early access.
Libraries of Chart of Accounts to help set up Xero will be available early next year.
XERO EXPENSES has improvements including mileage cost calculation coming in December (and there was an impressive array of third party expense application providers in the exhibition hall).
XERO PROJECT already allows simple job costing and management and will soon be available to accountancy practises as part of their subscription.
REAL-TIME INSIGHTS are important to Xero and a business snapshot dashboard and a cash flow dashboard available on early access (https://www.xero.com/uk/snapshot-pilot/ and https://www.xero.com/uk/cash-flow-pilot/).
Late payments were another theme, with the average business in the UK being owed £23,360 at any one time with 50,000 insolvencies each year which can be attributed to late and overdue payments. 48% of all invoices are paid after the due date and only 51% of UK businesses are cashflow positive each month.
Sometimes the largest companies can cause problems here and new legislation was introduced in September to begin to alleviate this as large businesses are required to report business performance with 90% of these companies now paying within 60 days - https://www.gov.uk/check-when-businesses-pay-invoices. Gary was clear that he felt further legislation is required on late payments especially as only 7,700 of the over 5 million companies are covered here.
Xero have long made it very easy to email invoices but a simple "Pay Now" button placed on the invoice connected to a credit card payment provider (in this case Stripe) improves the average time to pay on an invoice by 11 days down from an average of 26 days. Stripe have also improved their own time to pay and now pay out after three days of receipt of payment rather than seven.
Making payments will soon be easier with the Xero PAY link up with TransferWise which allows a payment schedule to be made and dispatched to TransferWise who will make the payments at the scheduled time as soon as funds are received by them. This can already be done by downloading a file to send to your bank but the link to TransferWise will make this seamless for a fee of £ 3-20 a month.
Xero has long prided itself on a large 'ecosystem' of over 800 applications that integrate with Xero and there were over 70 exhibitors at Xerocon many of them focussing on the same problem or issue.
There were multiple solutions for Expense Tracking and processing many of which had great integration with Xero – Expensify, Zoho Expenses, Expend.
Reading and automatic data entry of accounts receivable documents into Xero has long been provided by Receipt Bank and AutoEntry and also from Hubdoc aquired by Xero last year. Some of these will read a PDF invoice right down to line item level and enter automatically into Xero. A full one third of time is spent by accountants on data entry and clever use of the available applications here will save a lot of time. Xero are investing heavily in "automagically" allocating nominal codes with Machine Learning and so this area can only improve.
There were several new generation business bank accounts (Starling, Tide and Mettle) exhibiting which update the bank account feed within Xero every hour or so with seamless integration. Payment integrations offered by Stripe and Go Cardless are being baked in to Xero more and more. An interesting way to allocate corporate debit cards to staff with automatic feeds directly into Xero was demonstrated by offerings from Soldo and Pleo.
Business loans are another area of fintech innovation in recent years with Market Finance, Iwoca, and Esme (from Natwest) offering loans or invoice insurance directly from the Xero sales ledger.
See https://www.xero.com/uk/events/xerocon/london/exhibitors/ for the full list of exhibitors.
NatWest are a diamond sponsor of the conference and seem very innovative in this area announcing their new "Mettle" bank account with instant account opening for companies with two or less directors and less than £100,000 in the bank. This "mobile first" bank account allows you to create invoices within the mobile app (only on iphone right now) and have them appear into Xero along with the bank feed. Natwest also offer "Aptimise" which is a full standalone accounts receivable application that automatically reads incoming invoices and integrates with Xero and other accounting packages.
So, Xero are continuing to offer improvements in the areas of compliance and payment processing and seem to be the first port of call for innovators in the fintech area supplying new types of business bank accounts and finance and loans as well as company issued credit cards. Clever use of the data automation provided by Hubdoc and other vendors is also seriously reducing the labour costs involved in accounting practise and the planned compliance integration with HMRC will continue to make Xero the "go to" Cloud Accounting package at least for the year to come for many accounting practises.