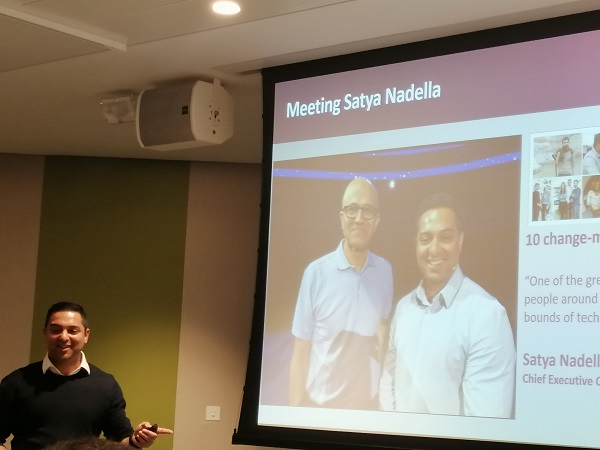 Why are Microsoft Power Apps so Great ?
Dynamics 365 Saturday. London. January 2019.
I looked at Power Apps several months ago and, as a programmer, wondered why organisations would pay seven pounds a month per person to have access to a very limited 'lo-code' application generator when you could do much more with Xamarin for free. However, my eyes were opened at the Dynamics 365 Saturday Community event held at Microsoft Offices in Paddington recently.
This Saturday event organised by Razwan Choudry has been going a while and for the first time I managed to make it through the waitlist and walked along the canal behind Paddington to offices I have driven past many times on the way out of London to the M4. It was a four track series of presentations given by the great and the good in the Dynamics 365 and Power Apps community. The 11am Power Apps presentation was given by three Power Apps 'Champions' and totally turned around my preconceptions and stuffed me full of inspiration.
Samit Saini loves Heathrow. His father worked there and Samit spent thirteen of the last fourteen years as a security guard inspecting our baggage and keeping our flights out of Heathrow safe. He came across Power Apps in his own time and used the template to create a mobile application from an Excel spreadsheet that he used everyday in his shift at work. He could not believe how easy it was to create and how nobody in the IT department knew about Power Apps or were using it despite signing the organisation up for the necessary licensing. Heathrow is an enlightened organisation and the app was rapidly adopted and Samit is now a full time App facilitator at Heathrow helping his colleagues build applications for deployment through the airport. He is a Microsoft Power App 'Champion' and was flown to Las Vegas and asked on stage by the Microsoft CEO to share his inspirational story at a Microsoft conference.
Martin Lee has a similar story. He came across Power Apps after five years experience as a dispacher at Autoglass - sending out technicians to repair windscreens all over the country. He automated his administration spreadsheet with a mobile app which was rapidly adopted by 150 users within a month. He also has a new job building applications and a portfolio of over 40 applications used internationally by 3,000 users and a stack of certificates and praise from the directors of the company.
Keith Whatling is the third Power Apps user with a new job description working for Arriva in London. One application he delivered is for the fuel depot which has to fill over 200 buses each night. He recognises the skills and hard work the overnight staff put in to keep the buses running each day and a tablet application that they can carry around as they fill vehicles has eliminated much of the paperwork that added another burden to their day.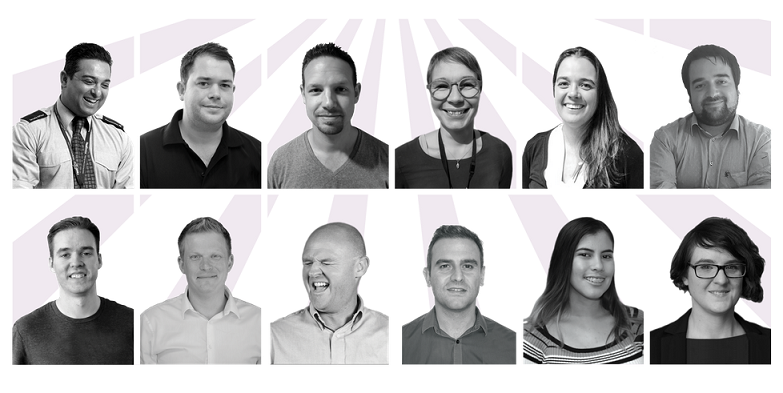 Microsoft are sharing the stories of new Power App Champions each month but hearing these three champions in the flesh describing their experience of transforming their organisations and their own jobs in the process is the reason that Power Apps is going to be very successful for Microsoft. In each of the three cases the organisation needs to have signed up for Power Apps with the Office 365 licensing so the applications can be used by everyone. Workers and admin staff tend to use spreadsheets for monitoring activity and building a mobile application that updates the very same spreadsheet automatically is consistent with their working practises. The fact that the users themselves can design the UI means that all the boxes are in the right place to help them in their place of work as they carry out their tasks and the very same spreadsheet as before is updated. Uploading and presenting the spreadsheet as a Power BI series of tables and charts completes the cycle without involving the IT Department, providing us with real life examples of digital literacy where workers have transformed their own workplace and working practises with a little help from the Power Apps licensing provided by Office 365.
Standalone monthly pricing for Power Apps is around £7 a month or £12 with the Microsoft Office E3 license which allows you to build and consume Power Apps over the web or on a mobile or tablet. There is a free community editon for development and testing and other licensing options also.
Standard 'canvas' Power Apps easily connect to a limited range of data sources including Excel and SQL Server or to a much larger range of 'premium' services such as Salesforce or MySQL using a large list of Connectors and a Power Apps Pro (more expensive at £40 a month) license. You can easily create a 'custom' connectors to almost any REST web service to build your own or connect to most modern services with a 'lo-code' Power App application on mobile, tablet or web.
Power Apps is being baked in to Dynamics 365 CRM Online (only!) as a replacement for dialogs and other functionality which is being deprecated. In this case you build a 'model-based' App (which needs licensing from Microsoft or is included with your Dynamics 365 subscription) and gives you access to the Dynamics 365 entities as data sources. The user interface is restricted with a model-based app and is effectively the same as the form designer used within Dynamics 365 CRM. You can also embed a single 'canvas' Power App onto a field in a form with the latest version of CRM Online and pass through the context of the current form to automate tasks (by connecting to a web service) or update data within the CRM and also other systems through the standard, premium or custom connectors.
Colin Vermander from KPMG in Canada gave us a remote session and a live demonstration of building these new features into a Dynamics 365 form. Creating a custom connector to an existing REST web service seems a remarkably easy 'no-code' feature of Power Apps, greatly extending functionality and providing a nice hook to make developers relevant again in the whole process (yet still keeping us out of the way). The functionality is new and his top tip for development purposes is to spin up a Dynamics 365 instance on the Microsoft Servers in Canada as they get the most up to date features first.
Rory Neary is a recovering accountant and a great communicator and has a series of Power Apps videos on You Tube and is now the fourth member of the TDG Community focused group. He gave a masterclass over two sessions which included scheduling the music and photos to accompany a Christmas party and texting reminders to his mother so that she took her pills each day ' all with Power Apps, Power BI and Microsoft Flow.
The final half hour gave us another insight into how the power behind Power Apps has the potential to transform working practises and the people who implement them. Rory started with an online (Microsoft) form which accepted You Tube links as recommendations and used Flow to save the result in a Sharepoint list (it could have been a spreadsheet or database). He then built a Power App from scratch to show the recommendations and display the video so that the approval status could be edited in the underlying list by any app user. Then he built and uploaded a Power BI report for everyone to consume that filtered the list so that only approved video links could be viewed. A complete business process created in 30 minutes involving a web form, a data source, a mobile application and a Power BI web report!
Dynamics 365 Saturday was an inspiring day run by the community for Microsoft Dynamics and Power Apps users and is running all around the world over the next months (places still available for Dynamics 365 Saturday Scotland in Glasgow on 25 January 2019). I certainly am going on the wait list as soon as it comes around in London again.
Resources:
www.dataspinners.co.uk
https://dynamics365society.uk/tdg-cl/
http://365saturday.com/
https://powerapps.microsoft.com/en-us/blog/powerapps-champions/
Redware Research Limited (that is us) have a Power BI Connector for Xero, Sage 50 and Quickbooks Online to extract data from these accounting database for use with our Power BI Accounting Reports.