Credit Scorecard for Microsoft CRM
redware have teamed up with Association of Credit Professionals to offer a unique service creating an instant credit scorecard for any UK or Irish Limited company complemented with a full range of training courses to help train your credit management professionals to better manage your credit risk.
The credit scorecard takes financial data available from Companies House and a well known credit information provider and combines it with a matrix of financial ratios to produce credit limit guidelines for all UK and Irish companies.
We have developed the concept of commercially minded credit decisions and provide four credit limits which you can apply according to your particular relationship with the customer. This is possible because we provide full accounting data for each company spread back over five years together with a credit score based on a number of financial ratios.
The integration with Microsoft CRM allows for the credit scorecard report to be requested within the CRM user interface and automatically attaches the report to the account entity as a note. The credit limit may also be updated automatically if required.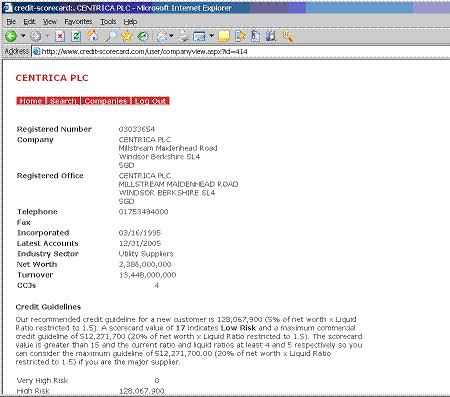 The integration software for CRM costs £495 plus VAT for a single CRM installation with a recommended 20% annual software assurance fee to include upgrades for future versions of CRM. Credit reports are pre-paid with rates starting at £7.50 plus VAT per report.
You can view our sample reports at http://www.credit-scorecard.com or register with the promotion code REDWARE to get 3 free credit reports to evaluate how they might fit in with your credit control procedures.
Please email or call us now on 0845 3010 444 to discuss your requirements and perhaps arrange an online demonstration.