SMS Text Messaging for Microsoft CRM 2015
SYNC SMS allows low-cost text messaging from Microsoft CRM. You can text to any network all over the world and create bulk SMS messages integrated with your CRM marketing lists and accounting systems. Messages are pre-paid with prices from just four pence a text and you can buy as few as 100 messages.
Please view our video to see the software working with MS CRM 4.0.
SMS functionality is available from the contact, lead, and user forms within CRM with messages stored as a phone call in the activity history for future reference.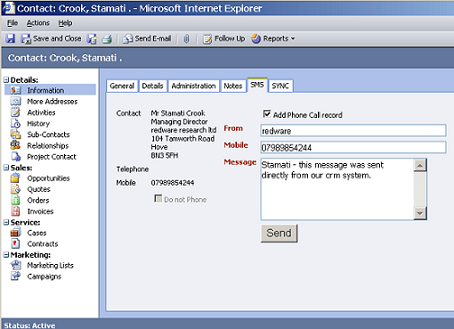 A search page allows you to send a quick text to a customer or lead without logging in to CRM and you can send text messages to other CRM users. You can also send text messages from your own applications.
Any message you send is configured to reply to your own mobile phone number or to show your company name without the ability to reply. We have built an SMS gateway which gives you incoming text messages directly into CRM and provides a web services API for developers to access with .NET or AJAX.
SYNC SMS for Microsoft CRM retails at £495 plus VAT for a single CRM installation. Software installation is straightforward and we provide email support for 30 days after purchase and offer annual software assurance for £99..
Text message credits are purchased in advance and vary between 4 and 8 pence for most destinations around the world. Texts in the UK cost 8 pence and a full list of message prices by destination is available on our sms gateway website.
Please contact us on 0845 3010 444 for more information.