Stigmergy
Create marketing intelligence from your web traffic.
Web analytics programs bombard you with a huge amount of information and often fail to deliver the valuable marketing intelligence you need to market your website effectively. Effective analysis of your online marketing campaigns is available only as an expensive extra with the more sophisticated web analytics packages and none of these systems store information in a database that can be integrated with your internal information systems.
Stigmergy provides 'next-generation' web analytics reports focusing on creating marketing intelligence with key performance indicators generated from your web traffic statistics. The application has been designed from the start for analysis of campaign data for monitoring markerting campagns and enhancing search engine optimistion efforts. Lifetime tracking of user behaviour stored in a database allows the integration of your web traffic information with your internal systems to allow user segmentation reports to exactly match your business requirements. We have closely studied the text of 'Web Analytics Demystified' by Eric Petersen (www.webanalyticsdemystified.com) to ensure Stigmergy provides you with all the state of the art marketing indicators.
Some of the innovative features of Stigmergy include:
Campaign analysis to match sales statistics with seach terms and calculate the return from your organic and paid search listings is designed into the application and not added as an expensive afterthought.
Visitors are tracked throughout their lifetime to allow you to identify behaviour and spending patterns for both new and repeat business.
Web traffic is stored in a database to allow custom reporting and analysis that suits your business processes.
Reporting can be integrated with your data from your own systems to provide actionable marketing intelligence.
Sales statistics are analysed by search engine, marketing campaign, or affiliate.
Reporting of seach engine and search terms by sales value creates a virtuous circle for your search engine optimisation (SEO) effort.
Marketing Intelligence
Reports are automatically produced each morning after processing the previous days web traffic and can be delivered as spreadsheet documents to allow you to build up a collection of key performance indicators that suits your business. Each report shows the total number of pages viewed as well as the number of visits and new visitors and the number of visits resulting in a sale. Sales figures and the number of orders are also output for every report.
Key Performance indicators for your markeing intelligence dashboard are easily constructed by combining your advertising spend data with this information:
Average number of pages viewed.
Conversion rates.
Average sales value per visit and per order.
Cost per aquistion.
Return on Investment by inividual campaign.
Loyalty measured by the numbers of new and returning visitors.
The following report showsthe statitics for a report broken down by date: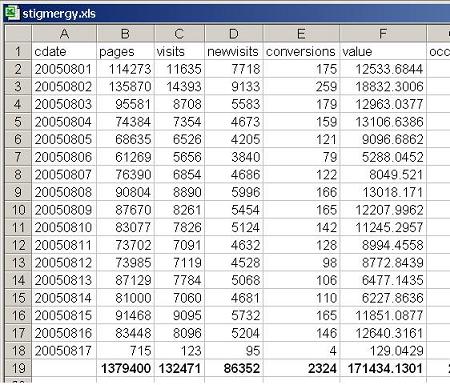 A number of dimensions are available for vist analysis including your campagn reference, the seach engine, search term, entry and exit page, referrer, country, IP address, user and so on. You may specify any combination of dimensions to create a report from the database. The following example shows a report broken down by search engine and campaign type showing just the visits that resulted in sales: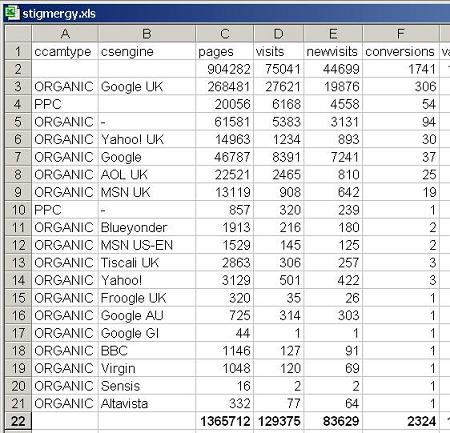 Similar analysis can be done by individual campaign to allow you to identify visitors from affiliate programs or email campaigns. Each landing page can also be configured to specify a particlar campaign allowing you to track conventional media campaigns through stigmergy.
Search engine optimiation (SEO) efforts are enhanced by reporting on search terms which can also be broken down by search engine and campaign type. The following report lists search terms used to access a site, alongside the conversions and sales value, to provide feedback for organic and paid search optimisation.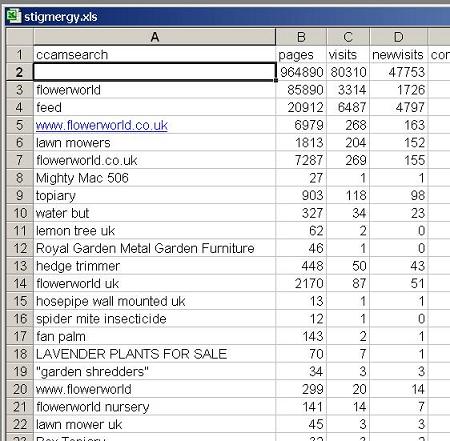 Stigmergy in Action
Stigmergy is able to process standard (apache) log files but is best operated in combination with a tag server that uses javascript to generate web traffic statistics and maintains a lifetime cookie for each user. This approach creates log files on a remote server from any web page without the need for any server configuration or imput from your IT department. The resulting log files can be processed locally into your own database or processed remotely with reports available each morning on our website.
The tags are implemented by inserting a couple of lines of javascript code into the HTML of every web page on your site. Your web designer will be aware of a variety of methods to do this easily and we can provide a uitlity to do this automatically if you need it. Simple changes to web pages allow you to record 'conversions' when a user completes a form, downloads a file, or completes an order for example. A value is assigned to each of these conversions to allow for return of investment reporting.
Please Contact Us
Stigmergy is available as a consultancy service only. Please contact us if you would like to trial the software either as a service or for processing into your own database. Telephone Stamati Crook on 0845 3010 444 or contact him by email at stamati.crook@redware.com.